Meeting deadlines from a CBD office is so 1990s. Today's creatives craving fresh perspectives pick up their projects and hit the beach in Bali, or wherever their muse might be. Why be chained to a desk when you can graft from a hammock under a palm tree? Goodbye work, hello workation!
It's the latest business/travel trend; a way to experience a different lifestyle without taking the full plunge. Of course, your job should be portable ‒ needing just a laptop and Internet connection. And you should be, at least temporarily, commitment-free. For those who meet the criteria, companies such as Unsettled and Workation will ‒ in return for a fee ‒ provide accommodation anywhere from Argentina to Zanzibar, a shared office space, and a ready-made community for company.
After a Skype interview to make sure you'll fit in, you sign up for a month, a year, or anything in between; then pitch for work on your first day in a foreign city, secure in the knowledge that later – if you can't face sliding a solo chop under the grill – you'll have friends on tap to discuss your next destination over a beer.

After working as a site-bound exhibition designer, Mel Cooke (28) of Cape Town, quit her job to start her own interior design enterprise. She decided to build her business plan in Bali and signed up for a month with Unsettled last year. "Working with like-minded people I could ask for guidance and making friends while exploring a beautiful island, is what I cherished most," she says. "I wanted a semi-structured trip where I could figure out the process of my next project. My workation taught me to build the life I love, instead of one I wanted to escape. Now I manage my own time – working late some nights but doing yoga until after 11 most mornings – and I feel a sense of purpose."
Flexibility is key. "The traditional way of working is counter-productive if you have to sit in traffic for hours inhaling fumes," says David Oosthuizen (42), formerly of Workation that connects creatives needing a place to meet and work, with hosts offering a suitable space. "Workation aims to be the Airbnb of the working place, roll out work-friendly territories, making it seamless to work on the fly."
Digital nomad Oosthuizen recently attended the Festival of Creativity in Nice but the Workation idea was born two years earlier in New York. "My co-founder Wayne Levine and I could not find a suitable place to pitch a proposal to an American colleague. Eventually we paid a hotel nearly a full day's rate to use their boardroom, projector, whiteboard and printer just for an hour. I knew there were others like us, needing a working place with the necessary facilities just for a short time."
Escape artistry
Today, while thousands combine their love for travel with work ‒ making video calls from a café in Dubrovnik or hot-desking in the nearest 'co-working space' ‒ *sources predict the rise of a billion digital nomads by 2035.
"Workation enables people from South Africa to Singapore to work wherever suits them, whether a coffee shop or beach house. Millennials, in particular, don't want be confined to one place. They want 'work-where-you-are' mobility. They want a healthy travel lifestyle. It's why freelance jobs are at an all-time high," says Oosthuizen.
Fellow Capetonian, Annette Muller (33) tech entrepreneur and founder of Flexy that provides companies with 'a curated community of digital nomads, adventure seekers, innovation addicts, experts, freelance professionals, and software' agrees. "Freelancing has exploded as more companies adopt an irregular workforce to increase productivity, relieve stress in existing teams, access global expertise and more diversity of skills, all the while cutting costs by up or down-scaling on demand."
After googling 'companies that embrace #flexyworking', Muller signed up with Unsettled and last year alone, met her deadlines from Mozambique, Greece, Lesvos, New York, Iceland, Bali and Jeffreys Bay. "I go where the interesting people are. I love connecting with local communities and experiencing life in a new country," she says. "By adopting a new kind of leadership without borders approach, I had to 'unlearn' a lot. I used to believe travel was either for holidays or work. Since I learnt to combine both, every day is an adventure.
"I still have investor responsibilities and I come 'on-site' for board meetings but our entire Flexy team works remotely. We love it."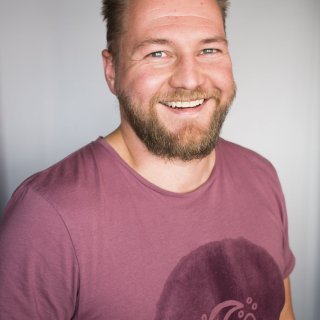 The time is now
Jean Dirk (JD) Stuart (33), from Hartbeespoort loves being a digital nomad. "It's my chosen lifestyle," says the principal engineer for a global mobile payments company, who spends every month in a new country. "I still do programming sometimes, but mostly I collaborate and co-ordinate with teams across the world." Stuart has worked in Bali, Cambodia, Indonesia, Argentina and is heading for Barbados, Split and Belgrade. He may return to South Africa later this year "depending on how things pan out".
"I always wanted to see the world but the time was never right. Newsflash! The time will never be 'right' unless you pick a date. I found WY_CO after some cursory research, applied online, did a video interview, and got accepted into the programme. The process was easy.
"I've met accountants, software engineers, life coaches, recruiters, graphic designers, marketers, sales reps, executives, you name it. We digital nomads are a diverse bunch but travelling as a group creates a form of community. Obviously, you bond with some people more than others, but we do regular potlucks, beach days, and fun excursions together.
"Few enjoy being told how and where to work, yet that's what most settle for in their jobs. For me, summer days are best spent on the beach, while I'm more productive in the evenings. I take time off when I need it. I value my holidays and whether it's a day or three weeks, I don't check e-mails. I can be reached by phone, in case of emergencies.
"Spending two months in Cambodia made me realise how little we really need. Travelling with one suitcase for a year makes you think twice before buying something, accepting a gift, or packing just one more thing."
Of course, there's nothing to stop you packing your laptop and heading to, say, Stockholm on your own for a month, but you run the risk of feeling isolated when a workation is all about community. "If I want to go paragliding, I ask Sarah and Jake. Scuba diving? That's Mark and Jennifer. Opera house? Kerry and Barbara will have great recommendations," adds Stuart.
For women it's more than just the social interaction. "There's safety in numbers," says Muller: "During my stay in Bali, seeing so many fabulous women stepping out of their comfort zones and travelling solo, inspired me to build my own company around the principles of freedom and flexibility."
Best of all, no more post-holiday, back-to-work blues since you never really left work. It just came with you!
References/websites:
Unsettled: www.beunsettled.co
Workation: www.workation.co.za
Flexy: www.flexyforce.com
*1 billion digital nomads figure: https://levels.io/future-of-digital-nomads
"I go where the interesting people are. I love connecting with local communities and experiencing life in a new country."
Get going
Prepare: Plan for times that work best with your office schedule or tack a workation onto a travel conference so you don't have to fork out extra for airfare.
Timing: Prove you can deliver the goods irrespective of where you are. It's best to propose the idea of a workation to your manager right after you've delivered on an important deadline.
Co-ordinate: Ensure your destination has good Wi-Fi and arrange to keep in touch or conduct conference calls on Skype.
Cut costs: Many workationers either sub-let their apartments while they're away or swap homes with a fellow traveller to save on accommodation expenses.
Switch off: Spend enough time away from your computer to allow your new surroundings to refresh you. Set your phone to airport mode when you need time out.
Holiday play: While workations are fun, work-free holidays are also essential for minds and bodies to rest.
Caroline Hurry is an award-winning travel writer and editor of www.travelwrite.co.za listed among South Africa's top 10 travel blogs.
Follow her on Twitter: @Travelwrite1
Facebook: www.facebook.com/travelwrite
Instagram: @carolinetravelwrite
Source: Acumen magazine